The school is located in salubrious surrounding of prime phase 7 of S.A.S. Nagar, architecturally designed in spacious 3.025 acre land. The school has well equipped laboratories with requisite modern scientific apparatus and equipments. Its tastefully constructed multi storey building contains all essential infrastructure like:
Administrative Block
Physics Lab
Chemistry Lab
Biology Lab
Integrated Science Lab
Social Science Lab
Maths Lab
Language Lab
Art & Craft Room
Library (Class & Central)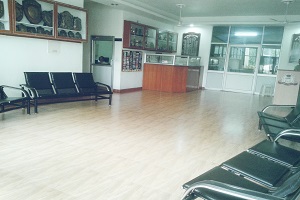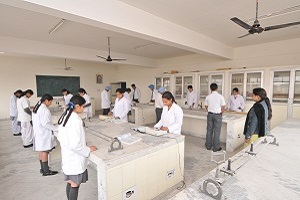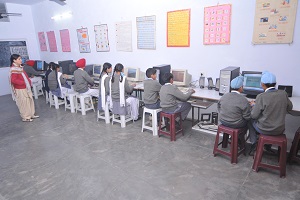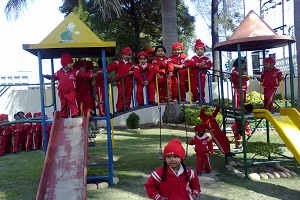 Besides there are 50 classrooms which are airy & furnished with child friendly furniture and audio visual aids.
Infirmary

First aid is administrated by a trained full time Nurse, in case a child is hurt or sick.
In case of any acute injury/ medical emergency, after administrating first aid the child is immediately rushed to Chawla Nursing Home/ IVY Hospital in the school van.
Some of the school staff has also been trained in basic first aid at IVY Hospital.

Digi Boards Students are imparted first hand experience of life through various modules on DIGI Boards. DIGI classes is a smart interactive screen mounted in place of conventional black board. These DIGI BOARDS are short form of DIGITAL BOARDS which are connected to the server carrying teaching modules on all subjects for Pre Nursery to XII. Through this students enjoy their tedious study and remember them for a longer period.
Computer Education Computer Education is compulsory from Nursery Onwards. A well equipped ultra modern computer lab, is set up with all the facilities to fulfil students' needs. Teaching & learning is done through modern techniques in multimedia lab with animations.
Children Park The school maintains a children park which provides fun to the little children. It has playing equipments like see-saw, sliding schutes, revolving platform and swings
Play Ground & Sports School has a sparking playground which is being used by students of the school for various outdoor games like Volleyball, Basketball, Hockey, Football, Badminton, Table Tennis & Lawn Tennis.
Features & Facilities
3 divisions per level / 35 students per class.
From Pre Nursery to XII (Humanities, Commerce, Science)
Resource Room
To help & support children with special needs, a programme based on their requirements & abilities is created and delivered to them at the resource room. Our teachers are recruit zed and trained to address the needs of children with different abilities and challenges.
Equal emphasis is laid upon learning the essential life skills & would equip them in becoming independent self functioning citizen.
Children who are diagnosed with learning difficulties receive the support & exemption required.
Counselling Room
The school counsellor empowers students to develop their competencies & draw on resource to effect change.
Consult & Collaborate with parents, teachers, school, administration & medical professionals to design intervention & implement strategies to help students.
Monthly career counselling to XI & XII students on various career options is held without pass.